(EDITOR'S NOTE:
Originally these chapters were all composed in Word form, but for the sake of you cretins I have pasted in links for some topics about which you might otherwise be completely ignorant.
Chapter II--Our hero describes the circumstances of his mother's life up until the time of his birth, at long last gives some indication of his childhood, and also pauses for a long denunciation of his parents on the grounds of hypocrisy, disloyalty, and primarily extreme stupidity and inadequacy.
Gladys Disraeli Harshenstein was born in London, daughter of August Disraeli and Prudence Horowitz Burke. Disraeli was a distant cousin (several times removed, and from a disgraced branch of the family) of the famous British Prime Minister and man of letters
Benjamin Disraeli
. Horowitz Burke was a descendant, through her father, of noted parliamentarian and philosopher (and founder of modern conservatism)
Edmund Burke
, and through her mother of slightly less well-known but nonetheless significant British Rabbi Levi Horowitz. Those of you will note that as my mother's mother was Jewish, I am, according to Talmud, wholly Jewish. Let no fools think that that quarter of Anglo-Irish blood renders me any less Jewish!
This historically bright pedigree was not to serve young Gladys well. Despite all the education, all the advantages, all the instruction, the proper pedagogical methods, and on, Gladys was an irreverent, blustery spirit from a young age, always more interested in "liberty" and "women's lib" than ideas of actual value, such as "tradition" and "knowing one's place." In a predictable act of transgression, she rebelled against her parents' hard-worn Tory politics in favor of an excitable Labor sensibility. She also predictably chose to attend college in America, going away to Wellesley in the late 60's. While she was a few years behind Hillary, she at least had the good sense to despise her even then as a clear contriver. Gladys was probably too much of a radical for middle-of-the-road-Rodham anyway.
But Gladys resembles the future Mrs. Clinton in one respect: like Slithery (coinage), my mother engages in displays of radical accent-shifting (for Clinton, see her famous "Tammy Wynette" moment from 1992, then any speech of hers today). Depending on the company, mom speaks either with a completely flat American, high-class tone, but if one of her British friends calls, she instantly modulates to a horrid English yawp... A mark of her underlying lack of integrity.
In any event, after finishing her Americanization and transformation into a complete, scruple-less moral-chameleon, she took a few years off to work in Africa as an "activist"... Or at least that's what we were told. All of it, the Africa, the activism, all of it: LIES!
In reality after graduating from Wellesley in 71, my mother became involved in an insidious group of radicals, a not-so-well-remembered band who called themselves simply "Fist".
"Fist" was dedicated to principles of radical sexual liberation. Hence the name, Fist. They were inspired for the most part by the writings of noted madman Antonin Artaud as well as the insipid prattle of that fraud
par excellance
Foucault, who advocated violent erotic practices.
Their terrorism consisted primarily in disrupting middle-class wedding ceremonies by, Carrie-like, pouring pig's blood on the bride and groom as they stood at the altar. Really transgressive stuff. Oh, and then there were the orgies.
You'd think this would be painful for me to talk about, but strangely, it's not at all, so primal is my rupture from the enseamed womb from which I sprang. No, it doesn't bother me at all, psychologically, but it sure manages to get my political goat in a way few things can.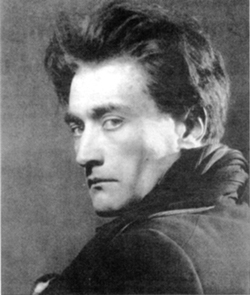 I mean, ruining marriages, engaging in all-night Foucault reading sessions, oh yeah, and then massive group organ massages. Totally fucking despicable. This is the kind of assault on traditional values I absolutely despise, abominate, detest.
In any event, after a few years of "protest" my mom became, predictably, insane. So much so that she was committed to a mental hospital in New York city after being arrested in an attempted plot to blow up the torch on the statue of Liberty (leaving just a raised fist in its place). You can guess what happened next. A certain amoral internist with known Leftist (terrorist) sympathies took an interest in this sad case, and, well, I am the result.
It was into this miasma of stupidity that I was thrown. More on my early years soon.